March 2001
March 4 - March 11 - March 18 - March 25
---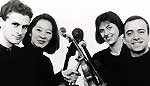 Brentano String Quartet
March 4, 2001
Greatest Form
Listen
It's been said that the string quartet is the form into which the greatest composers poured their greatest music. This week on Saint Paul Sunday, the extraordinary Brentano String Quartet prove the point with three distinct takes on their chosen ensemble. We'll hear music from the "father of the string quartet," Franz Joseph Haydn; three intriguing short pieces by Igor Stravinsky; and Béla Bartók's remarkably expressive first quartet. Listen in to discover the evolution of, and the riches within, Haydn's enduring brainchild.
Franz Joseph Haydn: Quartet in A major, Op. 20, No. 6
-I. Allegro di molto e scherzando
Igor Stravsinsky: Three Pieces for String Quartet
Béla Bartók: Quartet No. 1
---
Altramar
March 11, 2001
Celtic Saga and Song
Listen


Few of us realize what vital importance the medieval Celtic world held for the larger cultural legacies of Western civilization. The monks, scholars, and clergy of this otherwise obscure time and place encompassed the sacred world of chant; the secular world of magic, mortals, and epic song; and a rich heritage of scholarship. They conserved many of Europe's traditions as Europe herself neglected or abandoned them.

This week on Saint Paul Sunday the ensemble Altramar will explore these still-powerful traditions, weaving together the medieval Celts' voices and instruments, their story and song, and their Christian, clerical, and bardic customs.

May Song
Cristo canamus gloriam
A vous amours ains c'a nului
The Lay of the Forge
Columba, insignis signifer
Stantipe Smarmore


More about Altramar and Celtic instruments - Musician Web site - Musician Discography
---
Pamela Frank, violin; Claude Frank, piano
March 18, 2001
Exalted Music-Making
Listen
Bach, Beethoven, and Brahms each come wholly alive under the touch of a father and daughter duo this week on Saint Paul Sunday. Legendary pianist Claude Frank joins the acclaimed violinist Pamela Frank for what Bill McGlaughlin rightly calls some "exalted music-making." We'll hear the haunting aria-like Largo from Bach's fourth violin sonata and two extraordinarily poignant late sonatas by Beethoven and Brahms. The Franks' incandescent performances reveal the lyrical power shared by all three composers, an ongoing tradition the duo celebrates and expands.

J. S. Bach: Sonata No. 4 in c minor, BWV 1017-I. Largo
Ludwig van Beethoven: Sonata No. 10 in G major, Op. 96
Johannes Brahms: Sonata No. 3 in d minor, Op. 108-II. Adagio
---
Bridge Ensemble
March 25, 2001
Seattle Music
Listen


Seattle is a lacework of bridges, and this week on Saint Paul Sunday, Bill McGlaughlin welcomes a Seattle-based piano quartet as devoted to linking diverse musical sensibilities as their home city is to connecting islands. The acclaimed Bridge Ensemble will bring us music from one of Johannes Brahms's haunting early chamber works, his Piano Quartet in A Major, Opus 26. Then we'll hear two works by Giya Kancheli, whom Time magazine dubbed the most significant Russian composer since Shostakovich. Kancheli has often collaborated with the Bridge Ensemble, and the group will perform a work both composed for and dedicated to them.

Brahms: Piano Quartet in A major, Op. 26, No. 2
-II. Poco Adagio
-IV. Finale: Allegro
Giya Kancheli: Piano Quartet in L'istesso Tempo (excerpt)
Giya Kancheli: "Instead of a Tango"
Arkadi Serper: Why Not?

More about the Bridge Ensemble - Musician Discography

Audio from previous shows is archived in the program catalog. Go to the catalog to listen to previous shows.