Mark O'Connor
Mark O 'Connor


---
Musician Discography: Currently Available Releases

Web site: www.markoconnor.com
Who was NicolÚ Paganini?
"He's a comet! For never did a flaming star burst more abruptly on the firmament of art or excite in the course of its universal ellipse more astonishment mixed with a sort of terror before vanishing forever." So said composer Hector Berlioz about the man whose wizard-like violin technique - and bohemian lifestyle - aroused suspicion that he had sold his soul to the devil in exchange for his superhuman skills. There was even one report following one of his concerts that 300 audience members were in the hospital suffering from "over-enchantment," and ordinary people on the street used to poke Paganini with their walking sticks to see if he was really made of flesh and blood.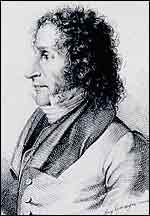 Born in Genoa (now part of Italy) in 1782, Paganini burst onto the international music scene in 1828 with his appearances in Vienna, followed by whirlwind successes in Paris, London, and Scotland in 1831-32. His concerts were sellout, rock-concert-like events due to his master showmanship, including such tricks as cutting two of the violin strings and continuing the piece on the remaining two. He performed many of his own compositions such as the 24 Caprices for Solo Violin, written to show off his own virtuosity. They stretch violin technique to its utmost with brilliant effects such as left-hand pizzicato (plucking the strings with the left hand), triple stops (playing three strings at once), and near-impossible speed. The Caprices are still the most daunting challenges for a violinist and are often required pieces in violin competitions today.
Although known for his devil-like technique on the violin, Paganini was fÍted in his time for the brilliance of his compositions (including six violin concerti, 12 sonatas for violin and guitar, and six quartets for violin, viola, cello, and guitar). Schubert once exclaimed, upon hearing Paganini's Adagio, that he had "heard an angel sing". Even his Caprices - despite the fiery tricks - are hailed for their melodic and rhythmic vitality. And as one of the first solo-virtuosos, Paganini's efforts to push technique to its limits inspired Franz Liszt, Robert Schumann, Johannes Brahms, and Sergey Rachmaninov to incorporate Paganini-like virtuosic passages into their own compositions.
Mark O'Connor appeared on another Saint Paul Sunday program featuring his "Quartet for Violin, Viola, Cello, and Doublebass." In his article "New Traditions," Saint Paul Sunday's Vaughn Ormseth wrote:
"When you think of fiddle music, you might think of Appalachian bluegrass contests, Nashville country bands, or Irish firesides. You probably don't conjure up the European Baroque. But the American fiddler Mark O'Connor - who will appear this Sunday on the popular public radio series Saint Paul Sunday - revels in that very connection." Read the entire feature.