--Art--

BEETHOVEN'S ANTECEDENTS
AND EARLY LIFE


1732

Births of George Washington and Franz Joseph Haydn.

1743

Births of American President Thomas Jefferson and Italian composer Luigi Boccherini.

First performance of Handel's Messiah, in Dublin, Ireland.

1746

Birth of Spanish painter Goya.

1749

Birth of German poet Johann Wolfgang Goethe.

1750

Death of J.S. Bach.

1755

Haydn composes his first string quartet.

Great earthquake of Lisbon - over 60,000 killed.

1756

Birth of Austrian composer Wolfgang Amadeus Mozart.

1756 - 1763

The Seven Year's War pitting European powers against one another is fought on three separate continents-Europe, North America and India. We know the North American campaign as the French and Indian War.

1757

Birth of English visionary poet, William Blake.

Voltaire's Candide published.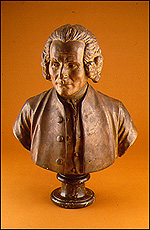 --Art--
1759
Birth of Scottish lyric poet Robert Burns.
Death of Handel.
1760
Coronation of George III of England.
Benjamin Franklin invents bifocals and rocking chair.
1761
W. A. Mozart, aged six, composes first piano pieces.
1764
City of St. Louis founded as outpost on the Mississippi River.
Mozart plays for Louis XV of France and meets J.C. Bach in London, becoming acquainted with the music of J.S. Bach.
1765
James Watt perfects the steam engine.
1767
Daniel Boone explores the territory west of the Appalachians.
1768-79
Captain Cook begins voyages of discovery.
1769
Birth of Napoleon Bonaparte.
San Francisco Bay discovered by the Spanish after two hundred years of missing it in the fog.
1770
Ludwig Van Beethoven born
Birth of English romantic poet William Wordsworth, and philosopher Hegel.
First New York performance of Handel's Messiah.
Gainsborough paints Blue Boy.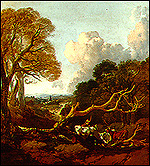 --Art--
Marie Antoinette, aged fifteen, marries the French Dauphin.
1771
Birth of English novelist Sir Walter Scott, author of Rob Roy, The Bride of Lammermoor (Lucia di Lammermoor), and Ivanhoe.
1772
Birth of English poet Samuel Coleridge.
Rutherford and Priestly independently isolate nitrogen.
1773
Boston Tea Party: To protest British taxation, American rebels, led by Paul Revere, throw shipments of British tea into the Boston harbor.
Goethe writes The Sorrows of Young Werther.
1774
Birth of German romantic landscape painter, Caspar David Friedrich.
Priestly discovers oxygen.
1775
Birth of English painter, J.M.W. Turner.
Patrick Henry declares "Give me liberty or give me death."
Beethoven begins music lessons with his father.
1776
Birth of English landscape painter, John Constable.
Declaration of Independence of the United States of America.
Edward Gibbon's Decline and Fall of the Roman Empire published.
1776-1781
American Revolutionary war is fought.
1777
Vermont outlaws slavery.
1778
Cook discovers the Sandwich Islands (Hawaii) and continues on up to the Pacific Northwest.
Death of Voltaire.
1779
Captain Cook, on his return to Hawaii, is discovered to be mortal by the locals, who prove it by taking his life at Kealakekua Bay.
Death of furniture maker Thomas Chippendale.
1780
Discovery of Benedict Arnold's plot to betray West Point for a British commission and a sum of money.
Erard builds the first "modern" piano in Paris.
1781
Joseph II abolishes serfdom in Austria, grants religious tolerance and freedom of the press.
William Herschel discovers Uranus.
Imanuel Kant publishes The Critique of Pure Reason.
Mozart moves to Vienna. "Idomeneo" premieres in Munich.
1782
James Watt invents steam engine.
Mozart writes the first of the six quartets dedicated to Haydn.
1783
Birth of South American revolutionary Simon Bolivar.
Slavery abolished in Massachusetts and Maryland.
Montolfier brothers succeed in the first ascent in a hot air balloon.
1784
Maxon Dixon line, popularly designating the boundary dividing slave states from free states, is extended west.
1785
Birth of American naturalist and artist, John J. Audubon.
Russian charter ends peasant reforms and allows nobility to own serfs.
Anton Reicha becomes a flutist in the Bonn orchestra, joining Beethoven, who was playing in the viola section.
1786
Birth of German composer Carl Maria von Weber.
Robert Burns writes his poems, chiefly in the Scottish dialect.
Mozart's Marriage of Figaro is performed in Vienna.
1787
Passage of the United States Constitution.
Mozart's opera, Don Giovanni premieres in Prague.
Beethoven visits Vienna, plays for Mozart.
1788
Birth of English poet Lord Byron.
First convicts settle in Sydney, Australia.
Kant writes Critique of Practical Reason.
Mozart composes his final three symphonies: 39, 40 and 41, "Jupiter."
Beethoven meets Count Waldstein and the von Breuning family who become financial supporters.
1789
July 14 - Overthrow of the Bastille; the French Revolution begins.
George Washington chosen first president of the United States.
William Blake writes Songs of Innocence.
1790
Death of Benjamin Franklin and of Joseph II of Austria.
1791
Death of Mozart at age 35.
American Bill of Rights.
1792
Birth of Italian opera composer Rossini and English poet Percy Bysshe Shelley.
Construction of White House begins in Washington, DC.
Mary Wollstonecraft writes Vindication of the Rights of Women, the first great feminist document.
Beethoven returns to Vienna where he will spend the rest of his life, and begins to study with Haydn.
1793
The Reign of Terror under French revolutionary, Robespierre. 200,000 arrested.
Thousands sent to the guillotine, including The King of France, Louis XVI and his wife Marie Antoinette.
Eli Whitney invents cotton gin, a machine for separating seeds from the cotton.
1794
Blake writes The Ancient of Days.
Next: Beethoven's Early Period