Previous: Beethoven's Middle Period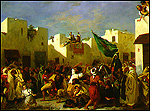 --Art--
BEETHOVEN'S LATE PERIOD
1813
Birth of opera composers Richard Wagner and Giuseppe Verdi.
Argentina outlaws slavery, followed by Columbia (1821), Mexico (1829), the United States (1863/5), Brazil (1889).
1814
Congress of Vienna convenes, redrawing the map of post-Napoleonic Europe and establishing political alliances that will endure into the 20th century.
Metronome invented.
1815
Napoleon crushed at the Battle of Waterloo (June 12-18), captured and exiled to island of Elba off the coast of Italy.
1817-25
Erie Canal built, linking Great Lakes and New York City.
1819
Birth of American poet Walt Whitman, American novelist Herman Melville, French poet Charles Baudelaire, Russian novelist Feodor Dostoevsky, and French novelist Gustave Flaubert.
Beethoven's final piano sonata, Opus 111, No. 23, composed (1821-22).
1822
Birth of naturalist Gregor Mendel, Austrian monk who developed theory of heredity.
1824
Beethoven's Quartet in E flat major, Op. 127 - first of the late quartets - published. Ninth Symphony (?)
1825
Britain recognizes trade unions as legal.
Beethoven's Quartet in A minor, Op. 132 - second of the late quartets - published.
1826
Mendelssohn: Overture to A Midsummer Night's Dream
Beethoven's Quartet in B flat major, Op. 130 - third of the late quartets - published.
Beethoven's Große Fuge in B flat major, Op. 133, published.
Beethoven's Quartet in c sharp minor, Op. 131 - fourth of the late quartets - published.
Beethoven's Quartet in F major, Op. 135 - fifth of the late quartets - published.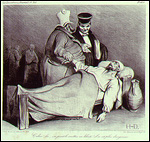 --Art--
1827
Beethoven dies at age 56. Schubert among torch bearers at the funeral procession.
1828
Birth of Norwegian playwright Henrik Ibsen and Russian novelist Leo Tolstoy.
Schubert dies at 31.
Berlioz composes Symphonie Fantastique.
Mendelssohn leads performance of St. Matthew Passion in Leipzig, starting Bach revival.
1831
Faraday discovers electrical induction.
Missouri Compromise, the first in a series of compromises dealing with the issues of slavery and states' rights.
Publication of Uncle Tom's Cabin.
1833
Birth of German composer Johannes Brahms.
First public grant for education available in England.
1835
Birth of Samuel Clemens (Mark Twain).
1836
"Remember the Alamo!" - Fall of the fortress in San Antonio inspires Texans to later defeat Mexican invaders.
1837
Morse invents telegraphic inked tape in New York.
Queen Victoria ascends the throne; she'll rule to 1901.
1838
Birth of French composer, Georges Bizet.
1839
Birth of French painter Paul Cézanne.
1840
Birth of Russian composer Peter Tchaikovsky, English novelist, Thomas Hardy, and French painter, Claude Monet.
Schumann marries Clara Wieck.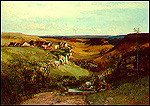 --Art--
1841
Birth of Bohemian composer Antonin Dvorák.
1843
Birth of Norwegian composer Edward Grieg and American novelist Henry James.
1844
Birth of French painter (Douanier) Rousseau.
1845
Wagner composes Tannhäuser.
1847
Birth of Thomas Edison
Irish potato famine strikes; heavy emigration follows.
1848
Birth of French painter Paul Gauguin.
Marx and Engels publish Communist Manifesto.
Revolutions of 1848 break out over continent, weakening Austria and resulting in Austro/Hungarian empire.
1851
Birth of Dutch painter Vincent van Gogh.
First submarine cable laid from Dover to Calais.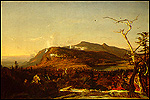 --Art--
1855
Franz Liszt plays his revolutionary E flat major Piano Concerto at Weimar.
Alexander II becomes Czar of Russia. Walt Whitman's first edition of Leaves of Grass published.