Missa Mexicana Make your own pop-up "Day of the Dead" table display.

Andrew Lawrence-King and the Harp Consort


Listen


View music text and translation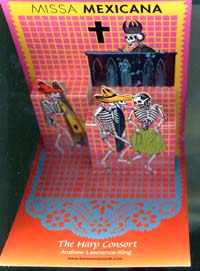 1. First, download the large version of the picture.

Use a picture viewer program to print out the downloaded graphic. Use thick photo paper (or print on thinner paper and glue to a stiffer piece of card stock before cutting.) Use the "fit to page" option on your printer layout settings to get the biggest image possible on a single page.
2. Using a utility or razor blade type knife, cut three vertical lines as shown (the lines are outlined on your print out in white.) Note that the middle line is the longest, following the length of both outside lines.

Next cut around the tops of the dancing figures and harp player. Be careful to keep these cuts separated from the vertical cuts you made.
3. Fold along the lines indicated on your print out: the red lines are folded back so that the crease is pointed towards you. The blue lines are folded inward so that the crease points away from you.


Side view after folded