David Finckel, cello; Wu Han, piano
November 25, 2001
David Finckel - Wu Han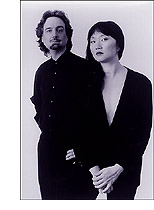 David Finckel and Wu Han have emerged as one of the most popular cello-piano duos on the musical scene today. Garnering superlatives among presenters, public and press, their success has placed them in the top rank of international musicians. London's Musical Opinion recently said of their Wigmore Hall debut: "They enthralled both myself and the audience with performances whose idiomatic command, technical mastery and unsullied integrity of vision made me think right back to the days of Schnabel and Fournier, Solomon, and Piatigorsky."
Their engagements take them to some of the most prestigious concert series across the United States, including San Francisco Performances, Stanford Lively Arts, New York's 92nd Street Y, Washington's Kennedy Center and Dumbarton Oaks, Wisconsin's Union Theater, Milwaukee's Pabst Theater, UCLA's Performing Arts Series, Atlanta's Spivey Hall, and the University of Chicago's Mandel Hall, Boston's Gardner Museum, Princeton University Concerts, University of Iowa's Hancher Auditorium, Cleveland Museum, New Orleans Friends of Chamber Music, Santa Barbara's UCSB Arts and Letters, and Aspen's Harris Concert Hall.
The duo has also begun touring in Mexico, Canada, the Far East, Scandinavia, and continental Europe, to unanimous critical acclaim. Their presentation of the complete Beethoven cycle in Tokyo was a recent highlight, as were their debuts in Germany, and at Finland's Kuhmo Festival. Last May the duo presented their third recital at London's Wigmore Hall, performing an all-Russian program.
David Finckel and Wu Han have been the subject of numerous feature stories around the globe in publications such as The New York Times, Los Angeles Times, Newsday, Billboard and BBC Music magazines, London's Time Out Magazine, and Tokyo's Ongaku-no-Tomo. On television, they have appeared on NBC Nightly News, A & E Breakfast with the Arts, CNN's Turner Entertainment Report and European Business News.
David Finckel and Wu Han's wide-ranging musical activities also include the launch of ArtistLed, the first musician-directed and Internet-based recording company. All six ArtistLed recordings, including the complete Beethoven sonatas, have received critical acclaim and are available via the company's Web site at www.ArtistLed.com. Of their Tchaikovsky disc, Time magazine's Terry Teachout hailed it as "a performance that ranks among the great chamber music recordings of the postwar era." The most recent ArtistLed recording is an all-Russian disc featuring works by Rachmaninov, Prokofiev, and Shostakovich.
The duo is regularly featured in the country's most important music festivals. Last summer's appearances were highlighted by performances at the Santa Fe Chamber Music Festival and Chamber Music Northwest, where they performed all five Beethoven sonatas in a single, sold-out marathon event. They also appeared at festivals in Maine, Mexico, Finland, and at SummerFest La Jolla, where they recently concluded three stellar seasons as Artistic Directors. Under their direction, the Festival received unprecedented international acclaim for its innovative programming, roster of world-class artists, workshop program for top young chamber ensembles, symposiums on the state of the arts, and multi-media presentations involving the visual arts and dance.
David Finckel and Wu Han's repertoire spans virtually the entire literature for cello and piano, with an equal emphasis on the classics and the contemporaries. Their twentieth-century repertoire includes all the significant works, from Prokofiev to Britten to Alfred Schnittke and André Previn, and their recitals now feature a growing number of works written specifically for them - this season by distinguished American composers Bruce Adolphe and Augusta Read Thomas.
David Finckel and Wu Han are regular members of the distinguished teaching faculties of the Isaac Stern Chamber Music Encounters at Carnegie Hall and at the Jerusalem Music Center. They appear annually on the Aspen Music Festival's Distinguished Artist Master Class series, and in various educational outreach programs across the country. David Finckel and Wu Han both teach privately on a limited basis in New York, where they make their home with their seven-year-old daughter Lilian.
Born into a family of cellists, DAVID FINCKEL began his musical studies with his father. At the age of 15 he made his debut with the Philadelphia Orchestra in Tchaikovsky's Rococo Variations, and returned two years later, playing the Schumann Concerto. At 17, Finckel first played for Mstislav Rostropovich, with whom he studied for nine years. David Finckel joined the Emerson String Quartet in 1979 and was soon playing over one hundred and thirty concerts per year in virtually every music capital of the world, winning four Grammy Awards.
David Finckel has performed extensively as soloist in the United States, Europe and the Far East. He gave the world premiere of Augusta Read Thomas's cello concerto Ritual Incantations at the Aspen Music Festival, and will be recording John Harbison's Cello Concerto with the Albany Symphony. He has recently performed with Itzhak Perlman, Pinchas Zukerman, Emanuel Ax, and Isaac Stern.
WU HAN began her musical studies at the age of nine, and within a few years took first prizes in all the major competitions in Taiwan. She quickly became the pianist of choice to perform with distinguished visiting artists, and her popularity with western musicians led to invitations to perform in the United States. There Wu Han studied with Raymond Hanson, Rudolf Serkin, Herbert Stessin, Lilian Kallir, and Menahem Pressler. She was a participant for two summers at the Marlboro Music Festival, and performed on two nationwide tours with Music from Marlboro.
Taking Europe and America by storm, Wu Han frequently appears as soloist with many of today's leading orchestras. Winner of the Andrew Wolf Award for pianists making a significant contribution to the world of chamber music, Wu Han is a perennial favorite of summer festival audiences, appearing at Caramoor, Ravinia, Saratoga, Aspen, Vail, Santa Fe and La Jolla. She has performed at the Chamber Music Society of Lincoln Center and with ensembles such as the Orpheus Chamber Orchestra and the Orchestra of St. Luke's. She has collaborated with many of today's celebrated string quartets including the Vermeer, Borromeo, St. Lawrence, Ying and the Emerson, with whom she has performed on three continents.
Saint Paul Sunday is produced by American Public Media.